News & Updates
Nov
22
Nov
22
By Anneke Stryker This note is to celebrate the incredible number of learnings and adjustments since first coming out to planting last season. From testing just how sore I can make my body to how to shit in the woods to embracing the friendly and open "you do you" attitude in camp....
Nov
21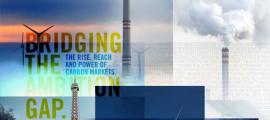 Nov
21
As a member of the Editorial Committee, Joseph Pallant & Brinkman Climate are proud to announce the publication of International Emissions Trading Association's (IETA) 2016/17 Greenhouse Gas Market Report. "Bridging the Ambition Gap: The Rise, Reach and Power of Carbon Markets." Strong work by...
Oct
5
Oct
5
By Robert Seaton Richard Whittall 1960 – 2016 Richard Whittall, who worked for Brinkman in the 1990's and 2000's, passed away at his home in Port Alberni on Sept 27 2016.  Although Richard had a forestry degree from Lakehead University, and could have been a "desk forester", all he...