News & Updates
Nov
10
Nov
10
By Baba Brinkman By all accounts, Faraz Khodabandeh was a remarkable person, both a larger-than-life character and a respected up-and-coming leader in the Brinkman community. He thought deeply and cared deeply about the tree-planting experience and what it meant for the people involved, and he...
Oct
29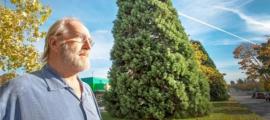 Oct
29
Photograph by: Arlen Redekop, The Province  Last week Kent Spencer from The Province newspaper interviewed Dirk about the effect climate change is having on our forests and how progeny trials will help us determine how to adapt the species we plant to the changing climate. Story by...
Sep
18
Sep
18
By Erik Brinkman Every year across Canada CN Rail's sustainability program sponsors many reforestation projects, offsetting the clearing of new rail lines and the production of new railway ties. By 2015 they will have planted over one million trees, which makes them the leading private non-...