News & Updates
Mar
31
Mar
31
By Dawn Brinkman It had been over a year of back and forth with the TV producers and their proposal of a tree planting reality documentary before the three British rookies hit the Prince George tarmac in mid-May of 2014. The premise of the show is how the unemployed youth (18-25) of Britain hold...
Mar
16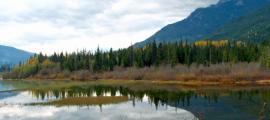 Mar
16
By Joseph Pallant, Brinkman Climate Manager In 2009, the 32,000 ha Cheakamus Community Forest (CCF) was awarded to a partnership between the Municipality of Whistler, the Squamish First Nation and the Lil'Wat First Nation. Social enterprise non-profit Ecotrust Canada helped broker this new...
Mar
11
Mar
11
By Matt Brady It's generally in July that I attempt the same lie, year after year. Friends just shake their heads, knowing the truth behind the words. It might start as a mutter, a murmur or a muffled whisper, but eventually I'm telling everyone in a building crescendo – "this is it guys, my...