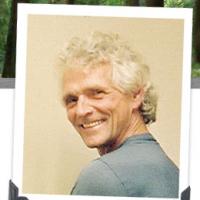 In loving memory
Jabez Kruithof
Oct 31, 1947 – Scheveningen, Holland
Oct 30, 2008 – Burke Channel, BC
Jabez was born by the sea in Scheveningen in Holland, Oct 31, 1947. He was the 5th born of 12 children, 8 boys and 4 girls: Arie, Kees, Willem, David, JABEZ, Mirjam, Margreet, Marsha, Jónathan, Benjamin, Daniël and Debóra.
Jabez lived in Holland until 18. He then moved to France to study at the Sorbonne, and then later to work and study in England.
In 1970, fresh from his travels in Morocco, he crossed Canada by train, arriving in Vancouver where he met Khrysty. It would turn out to be the beginning of a beautiful 38 year love affair.
Jabez was always a free spirit. His working travels took him all over B.C. and eventually to a Tungsten mine, where he developed a passion for photography and yoga. It was in the dark north that he started his spiritual growth.
Jabez and Khrysty moved to Hornby in 1971 and 1974 they became one of the 8 founding families of the Syzygy Cooperative Community, of which they are still loved members. Their sons, Skya (1976) and Jesse (1979) were born and raised there. Jabez raised them with respect, kindness and love, and thru these actions he instilled in them a love for life and adventure.
In 1976, Jabez began a relationship with Brinkman & Associates. He started out as a tree planter and worked his way up to be their coastal coordinator and eventually he started is own company. With Stephan and Roland Kuitenbrouwer, he bagan a journey that took him up and down the rugged coast of B.C. Kurk Ventures became well known and respected wherever they worked.
Jabez's iron will and big smile make a strong impression on many people he worked with, ranging from students, to lifers, to the indigenous peoples of B.C.
He developed a great compassion for this fragile coastline; its trees and wildlife, and especially the bears for which he had great respect.
Jabez was drawn to the unknown. He ha been to places few people have been, content in any kind of dwelling, loved different foods and walking down unknown streets, looking for that perfect cup of coffee.
He was and always will be a legend and inspiration for many who knew and loved him. The world is a beautiful and better place because of him. Thank you, Jabez.
"From Alaska to New Westminster, from the Queen Charlotte Islands to Northern Ontario, Jabez was loved and respected among the people of the forest industries for his knowledge, professionalism and can do attitude, as well as his bear hugs and great smile. Some say he was a legend."