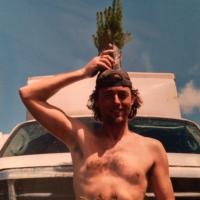 Tristan approached treeplanting with the energy of an extreme athlete, balancing his larger than life presence with his friendly demeanor. He was always an inspiring big brother to new planters, leading by example with speed, quality, and hilarity and somehow still taking time to teach, befriend, and mentor anyone grappling with the difficulties of the job.
Having touched hundreds of planters and made countless forests over his career, Tristan retired from tree planting in 2011 and continued to heal and charm those in need full time through his new career in Nursing. He started a family and became a father with the birth of his daughter Isa. His memorial service will take place in the next few weeks. We will post the date once his family shares it. Tristan's family requests that those who knew him send in any photos, stories, or memories they have, which will be turned into a collage for his family and young daughter. Please send any such materials to [email protected] and we will see that his family receives them.
We'll all miss you Tristan, and cherish the light your smiling presence brought into our lives.