News & Updates
Discovery with The Gitxsan: Tree-planting at Summer Camp
Mar
15
By Marley Meinzinger
The very first Gitxsan Career Discovery Forestry Camp took place outside of picturesque Hazleton, BC at the end of July, 2014. A group of 20 Gitxsan youth from the community high school challenged themselves to a weeklong experience of living in a bush camp and being immersed in the world of tree planting and other forestry careers. The camp turned out to be an amazing experience for everyone involved! The camp was an initiative of the Gitxsan Development Corporation (GDC) and was developed and executed by Rick Conners, Karla Rockwell and others from GDC along with the camps sponsors, of which Brinkman Forest Ltd. was one.  Camp Counselors Linda and Grayson Smith, along with Brinkman's own Camp Manager Ben Bradford, Cook Extraordinaire Cat de Cent and Marley Meinzinger as camp manager's assistant and sous chef, had a fulfilling week of teaching, learning, working, and having fun with this very special group of young adults. 
Activity highlights throughout the week included a very exciting helicopter ride to a cut block, learning a multitude of tree-planting skills, fire safety, reading forestry maps, GPS skills, first aid basics, camp set up and maintenance, truck and bus maintenance, and communication with radios and sat phones. Demonstrations and discussions lead by community elders provided insight into traditional forest practices and cultural awareness. "Free time" was often spent developing such skills as slack lining, hiking, planting more trees just for the fun of it, and playing countless games of manhunt. Each evening after we were stuffed from Cat's fine cooking, Linda and Grayson lead a group discussion around the campfire to debrief the day and share stories and experiences. Through the course of the camp, a great deal of self-discovery unfolded along with discovering skills in many aspects of forestry. The camp staff departed Hazleton feeling touched by such an exceptional and unique group of kids. 
The camper surveys filled out by participants at the end pulled the experience together nicely, with many enthusiastic responses. What was the biggest challenge of the week? "Too many mosquitoes and being too full." And what did you learn? "More respect, and tree-planting wisdom." A big thank you to all who made this great experience possible and I hope to see you all again next year.
Post Script:
The success of the 2014 Gitxsan Career Discovery Camp showcased the value and impact of the initiative and garnered much support for its continuation. GDC is currently planning summer 2015 camps. You can find out more, here.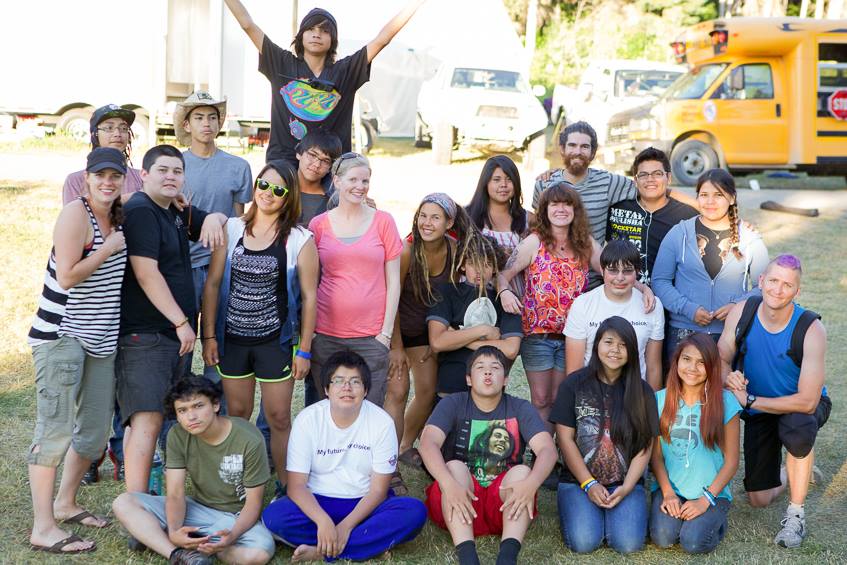 PLUS!  Apple Walnut Sour Cream Coffee Cake Muffin Recipe
By "Cook Extraordinaire" Cat de Cent
I am not going to lie, my biggest challenge as a cook is muffins. For real. I think that they can sense that I don't really like them. Any ways, these ones are great, and if you can survive the angst of cleaning muffin tins, it is well worth the effort and so I give to you the recipe for Apple Walnut Sour Cream Coffee Cake Muffins. It yields 2 loaves to one or 12 muffins to the other.
Topping:
1 Cup Brown Sugar
1 Cup Chopped Walnuts
2 Teaspoons cinnamon
Combine above ingredients and set aside. Pre heat the oven to 350.
Batter:
2 Cups Margarine 2 Cups White Sugar
4 Teaspoons Vanilla 4 Teaspoons Baking Soda
8 Cups Flour 4 Eggs
4 Cups Sour Cream or Plain Yogurt
4 Teaspoons Baking Powder 1 Teaspoon Salt
6 Apples, peeled and cored
Combine all the batter into a large bowl and mix thoroughly, adding the apples at the end. Pour the batter into 2 greased loaf pans or 12 muffin tins. Sprinkle with topping and bake until golden brown, about 25-40 minutes depending or whether they are loaves or muffins.