News & Updates
Forestry in the Family: Planting Trees for Community Health and Prosperity
Jul
16
By Christian Walli
On my father's side of the family, the Walli family can be traced in Switzerland back to 1584, when Peter Walli was recorded as having paid taxes to his landlord. The family's foray into forestry began in 1840, when another Peter Walli became his town's first forester. On my mother's side, the Gujan family dates to 1625, when Johannes Michael Gujan came from the Engadin valley and was hired to be his town's reverend, when the family began to work the farm and forest lands, while being very active local and national politicians, administrators and professionals.
My first memory of forest fire management was at the age of seven, a few days before the Swiss national day celebrations when the Swiss commemorate the past expulsion of foreign powers by lighting bonfires. Days before the event, students built a large bonfire close to the forest's edge. It was too close for me. I ran down the valley to tell my uncle, the town's forester. My mother, who helped the students build the bonfire, was not impressed with my tattling and sent me to bed without dinner.   
My mother, aunts and uncles mainly looked after the farm in the Swiss Alps. At a very early age, we all worked on the farm, in the forest and tended cattle. My father worked in the forest as a contractor, and was one of the first to own and operate a skyline forestry operation, employing mostly seasonal workers from Italy and Austria.
When I was twelve, a few workers asked my father if my brother and I could drive them to Innsbruck. We placed some hay bales on the flat deck trailer, and off we went. Upon our arrival, we stopped in the red light district. I was asked to wait on the red velvet couch. The madam offered me an orange drink while the workers picked their ladies and disappeared behind the heavy, colourful curtains. Later that afternoon when about half way home, the workers signalled us to stop. They wanted to go back. We came home very late that night.
I always wanted to become a forester like my uncle but the family couldn't finance higher education for four children, and a local career counselor determined that I was best suited to be a watchmaker or cook. At sixteen I accepted a job installing water heating systems, which required considerable local travel to work in ancient monasteries and fancy hotels and villas in places like St. Moritz and Davos.
We worked long days restoring the lobby of a very luxurious hotel in St. Moritz. A Middle-Eastern prince challenged his party of debutantes and local ski teachers to trash the lobby within a given time. All I know is that they met the first part of the challenge.       
One day on the train to work, I found a leaflet describing the vast and beautiful Canadian forests. This was a pivotal moment for me to decide to free myself from the career path chosen for me by family and society.
At age nineteen in July 1963 I boarded my first jet passenger plane and left Switzerland for Canada, one day before I was to enter compulsory army training. In the Montreal airport I encountered my first Inuit people huddled together wearing traditional attire. After a few hours layover in Montreal, I boarded  a four prop Viscount Aircraft to take to the evening sky with roaring engines. I still remember the moonlight reflecting off the many Ontario lakes and lights from the little Prairie towns. In Calgary I encountered my first cowboys on horseback and aboriginal people on the town's outskirts.
I arrived in Castlegar with only Swiss francs but the generosity of Canadians became immediately apparent. The shuttle to Nelson and bus to Nakusp was allowed on credit. Driving through the Slocan Valley I was unaware of the Doukhobor and Sons of Freedom struggles and almost everything else except for the country's vastness and beauty. In the small mill town of Slocan, the coffee shop owner offered me a free piece of apple pie with a good sized piece of cheddar cheese and a coffee.
The Swiss were automatically considered to be good skiers, and the Nakusp ski hill was just taking shape. I was asked to teach skiing and it was there I met many local foresters. Soon I was timber cruising, firefighting, and planting and surveying. My boss encouraged me to go back to school, and with the help and support of my wife Ellen, I continued working while obtaining a Bachelors of Forestry from UBC.
At the Leland Hotel in Nakusp, the chambermaid told me that her mother emigrated from my hometown in Switzerland; she was the sister of a lady who, just before my departure, asked me to give best regards to her sister in Canada. The chance of this happening was 1 in 18,931,000.   
I worked at  Canfor, assisting the Chief Forester and looking after their tree improvement program. Later on I developed a nursery, seed orchard and finally a mycorrhizae research division. The corporate environment offered me freedom to participate in new industry endeavours such as the provincial seed and tree improvement committees, and travelling internationally on forestry tours. I was asked to set up Lodgepole pine provenance tests in BC for a major Swedish forest company that had replaced the majority of their Scott pines with BC and Alberta Lodgepole pine. The company ownership and management styles changed, so I moved on from the corporate forestry scene and joined Brinkman and Associates Reforestation Ltd..
At Brinkman I assisted in purchasing and building a forest nursery division in Ontario. The transitory, turbulent Brinkman culture was an unusual pairing with a nursery operation, which required round the clock attention. This odd coupling, along with the fact that the Ontario government cut their annual planting program in half and the BC Government favoured their own employees to purchase government nurseries, led to us eventually closing the nursery division. I strongly believe that failures help us learn and grow stronger. Brinkman is now diversified and sufficiently structured, yet we maintain a good measure of dreaming space and a strong determination to make ours a better world.
My first day of work I arrived at the Burnaby office—a small house  surrounded by trailers. Klaas, in his shorts, offered me breakfast consisting of cheddar cheese, bagels and other treats. Shortly thereafter Dirk Brinkman arrived on his bike with his sizeable Macintosh computer in a milk crate, and to top it off Bill brought fresh doughnuts.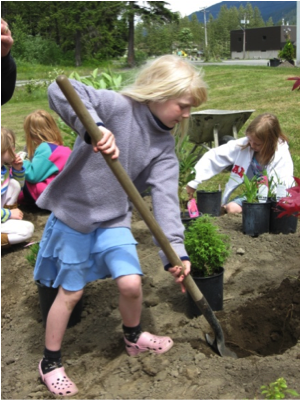 The newly formed not-for-profit Tree Canada Foundation was involved in restoring the Inco smelter moonscape and Brinkman was offered the contract of planting 600,000 trees. This was the beginning of the Tree Canada-Brinkman relationship. In the past 22 years we have participated in some 400 community projects planting urban trees, about 50 school yard greening projects, and planting many First Nations' forest lands. We are proud of engaging innumerable volunteers, particularly children who learn from these projects the worthwhile act of planting a tree.
When a new highway interchange was built, the community's urban forester decided to plant trees within the clover. The kids were busy planting trees and were most excited when suddenly a frontend loader appeared from its hiding place with a big spruce tree in its bucket. After the event, the forester spoke to them about why planting trees was a good thing. During the Q&A period he asked what they would like to do when they grew up. A little boy answered, "I am going to drive a tractor just like this one."
Looking to the future, Brinkman and Tree Canada will continue to diversify through environmental advocacy to foster health and happiness, such as promoting urban car free zones where people can socialize in an environment preferably located near water, and trails leading to rural areas.
Because of our vast experience and diverse client base and the relationships and experience that flow from it, Brinkman is ideally equipped to design and build urban forestry projects which support landscapes designed to help the population live healthier and happier lives.
I feel lucky for these experiences that I hope make a positive difference, and I am thankful for the opportunity to be part of a team that strives to achieve the same. If we achieve our objectives locally we can expand our accumulated knowledge for positive change globally. This journey has taught me that those who plant trees are actually planting health, happiness and prosperity!