News & Updates
Salute to Lisa Houle: A Forest Safety Ambassador
Jan
10
The Above illustration, "Contemplative Renourishment" by Emily McGratten, was commissioned by Brinkman and Associates Reforestation Ltd. as a gift of recognition for Lisa Houle.
By Timo Scheiber
As many of you know, Lisa Houle moved on from our ranks this year into a career with WorkSafe BC. There she joins James Devries, her long-time partner and past Brinkman Coordinator. Lisa has taken on the role of Forest Industry Liaison, so we will still be seeing her at various industry functions, and in many ways she continues on with her past efforts to keep forestry workers safe.
Most of you currently working with Brinkman will remember Lisa as OH&S coordinator for the company, a position she held with great effect for the last 8 years. What you may not know are the many varied job titles that Lisa held in her time with Brinkman. Planter, Crew Boss, Foreperson, Front Desk attendant, Contract facilitator, and Contract Coordinator. I think she even cooked once or twice!
When I met Lisa in the early 90's, she had just taken a temporary (seasonal) position at the front desk. Bright eyed and bushy tailed, Lisa was the voice we got on the phone prior to the automated phone system now in place (I still miss the days when you got a real person on the line). She quickly proved her competence – in fact, her indispensability – and was signed on more or less permanently any time she was not in Alberta with Lisa Holleman, looking after crews and trying to find her way around in the 'shelterwood' cutting that Weyerhaeuser preferred. I visited there a few times, moonlighting as a planter after supervising all spring, and had the pleasure of working on Lisa's crew once or twice. Organized, positive, and always quick to laugh and smile, she showed the same capabilities in the field that everyone at the office had so quickly come to appreciate.
Many of Lisa's positions with Brinkman were created just for her, to make sure we got the best of her considerable skills at any given time. So, as many of us have, she grew in her career with the company and took on new challenges and greater responsibility. Much of the credit for our initial OH&S program goes to James, who managed this portfolio off the corner of his desk for years, trying to make it interesting and exciting at the supervisor's meeting every year despite an (often) lukewarm reception from a bunch of heathens who hadn't yet come to appreciate the value of a Health and Safety program. However, it was Lisa who authored the program that we see today, and who shepherded us through some difficult tragedies – learning what she could from each incident and incorporating that knowledge into our program.
Needless to say, Lisa achieved so much in her time with us and the company has gained enormously from her dedication and skill. That being said, we wish Lisa the best in her new endeavours, and expect to be sitting across the table from her on occasion in the future. She still works in our aid, but from a distance now. Robin McCullough has taken the reins and we look forward to continued excellent support and leadership from the OH&S coordinator role in coming seasons. So as a friend and colleague I say, "Goodbye Lisa, best wishes, and sorry for all my snoring over the years of shared rooms on road trips. Salute!" We will miss you.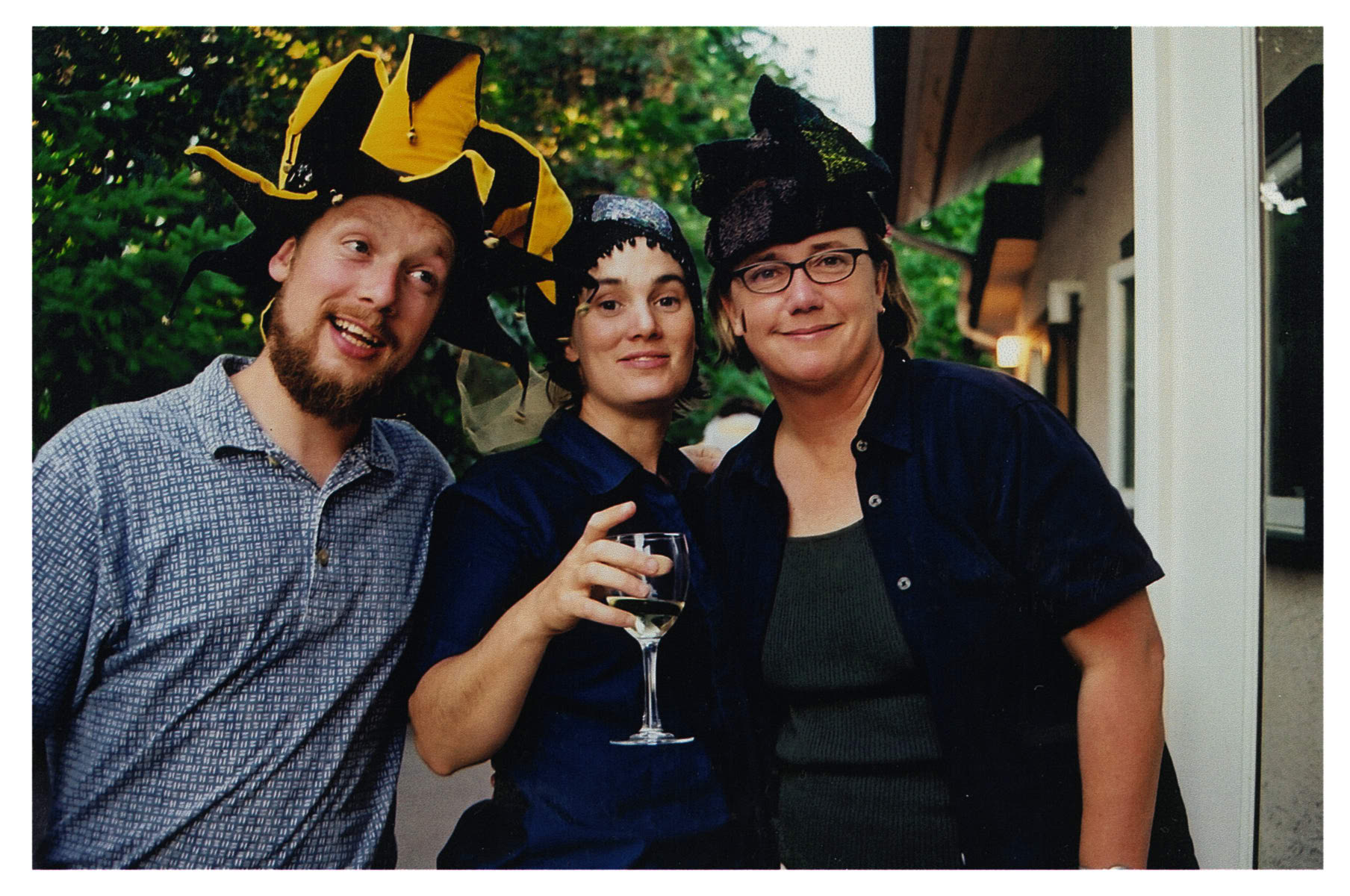 In photo: Timo, Lisa and Cathy Craig